Dr. Barry Redmon, Gail Drum, Wendy Miller, Renee Edwards, Jane Teague
United Way Goal for 2005/2006
Fundraising Campaign
$173,000
Thank you for your support to this year's
United Way Campaign Drive!
United Way of Alexander County
2005/2006 Campaign KickOff
August 25, 2005
The United Way of Alexander County held the Kick Off Luncheon for the 2005/2006 Fundraising Campaign on August 25, 2005. Attendees were honored to have the 2005/06 NC Educator of the Year, Ms. Wendy Miller, as guest speaker. (photo-center)
As attendees arrived they found a surprise of a "Luau Theme" for the luncheon complete with Hawaiian leis, straw hats, grass skirts and accessories! All attendees received a lei and United Way Board members were "thrilled" (or not) to find they would be wearing a variety of Hawaiian accessories. The ladies donned grass skirts and hair accessories, whereas the men wore straw hats and coconut bras. Needless to say, the afternoon started with lots of laughter! Special entertainment was provided by the four year old class at First Baptist Church Daycare who brought ahhhss from the crowd with the cute Luau Dance they performed.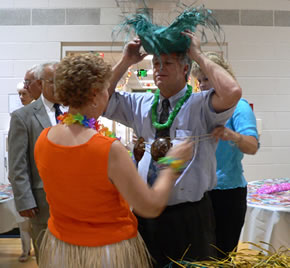 Dr. Barry Redmond, 2005 United Way Board President & Associate Superintent of the Alexander County Schools is "assisted into his Hawaiian attire" by Gail Drum, Director of Alexander County United Way & Denise Elder, Director of Alexander County Chamber of Commerce, while Sheriff Hayden Bentley (left) watches on. Thankfully our Sheriff only received a Hawaiian Lei to wear for the afternoon!