Sunday, June 2, 2002

Our New Hospital's OPEN HOUSE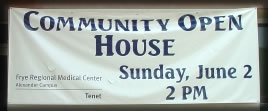 The hot weather did not diminish the response by our community as hundreds turned out to celebrate the Grand Opening of our new Hospital - The Alexander Campus of Frye Regional Medical Center. The opening ceremonies began with the raising of new flags, singing of the National Anthem and comments by Town, County and Frye Regional officials.
The crowd enjoyed entertainment, music, giveaways, refreshments, hospital tours, health screenings and more! The event was broadcast live by local radio hosts of WACB/WTLK and covered by WSOC Eyewitness News.