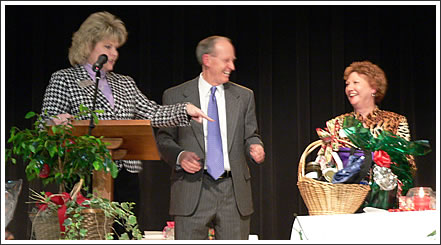 (left to right)
Denise Elder, Chamber Director, Chuck Ewart, Keynote Speaker and Gail Drum, 2006 Chamber President enjoy a laugh as Chuck is presented with a gift basket filled with items especially chosen to remind Mr. Ewart of his visit to Alexander County.
Chamber of Commerce
2006 Annual Meeting & Awards Banquet
The Alexander County Chamber of Commerce held the Annual Meeting & Awards Banquet the evening of January 23, 2006. We were honored to have Mr. Chuck Ewart as the keynote speaker. He captivated the audience with an evening of comical stories to drive home the importance of communicating effectively with our customers, employees and everyone we deal with each day!

CLICK TO VIEW a slideshow of the evening!


. 2006 LARGE BUSINESS OF THE YEAR AWARD:
MITCHELL GOLD + BOB WILLIAMS
. 2006 SMALL BUSINESS OF THE YEAR AWARD:
THOMAS INSURANCE SERVICES
.2006 Larry Payne FARMER OF THE YEAR AWARD:
DAVID AND MARGIE HERMAN FAMILY
.2006 CITIZEN OF THE YEAR AWARD:
HARRY ROBERTSON
.2006 STRUCTURAL RENOVATION AWARDS:
MAYS MEATS
TAMMY FENTON REALTY
UNITED CAROLINA GROUP
.A SPECIAL THANK YOU TO OUR SPONSORS:
SPEAKER SPONSORS
Duke Power
Paragon Films
CORPORATE SPONSOR
Energy United
GOLD SPONSORS
Adams Funeral Home
Alexander County Board of Education
Martin Starnes & Associates, CPAs PA
Mitchell Gold + Bob Williams
Modern Dry Cleaners, Inc.
Peoples Bank
Schneider Mills
Taylorsville Savings Bank
Thomas Insurance Services
Town of Taylorsville
PRESIDENT'S RECEPTION SPONSOR
Garbage Disposal Service
FARMER OF THE YEAR SPONSOR
EnergyUnited
Happy Trails Cowboy Church
. RETIRING BOARD MEMBERS:
Plaques were given to the following retiring board members for their service:
Marie Chapman
Debbie Jenkins
Brenda Warren
.PAST PRESIDENT :
2005 President Chip Swinnie was given a plaque by 2006 President Gail Drum
for his service to the Chamber.
.2005 NEW BUSINESSES:
Accuforce Staffing Services
B.C. Aggregates
Best Western Statesville Inn
DJM Consulting, Inc.
Donlin Counseling Services
Economy Inn
Edward Jones
Full Faith Mission
Senator John A. Garwood
Go Wireless
Cingular Authorized Agent
Grace Builders, Inc.
H & H Arena, LLC
Hickory Metro Higher Education Center (CVCC)
Holiday Inn
Le Bleu of Statesville
Mexico Viego
Northwoods Home Services
P. J.'s Clothing & Accessories
Paragon Films
Peebles Department Store #5181
Realty Executives of Hickory
Royal Comfort Seating, Inc.
Select Tech Solutions
Denise Shew, LMBT
Shuford Credit Union
Stewart Superabsorbents, LLC
Tom & Kay Tyler, Real Estate Agents