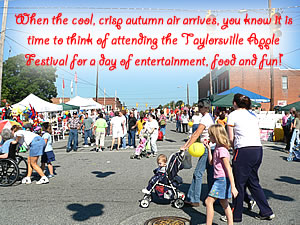 The streets of Taylorsville fill to overflowing for the Annual Taylorsville Apple Festival which draws an estimated 35,000 attendees and hosts over 400 booths including rides. The festival provides a fantastic assortment of entertainment, food and vendors.
The festival boasts 3 entertainment stages: The Main Stage on the courthouse lawn, the Gospel Stage at the west end of the festival, and the Childrens' Stage on the east end of the festival. The Kid's Korner is the biggest draw for our younger attendees.
The Kid's Korner has hosted in the past, pony rides, mechanical bucking bull rides, pitching booths, numerous professional inflatables, puppet shows, music and much more.
Food vendors surround the courthouse emitting some of the most wonderful smells and best tasting food you'll find in the Carolinas. One can find, chopped barbeque, eggrolls, hamburgers and hotdogs, barbeque chicken, Italian sausages, and the list goes on.
And don't forget dessert. Items here include: homemade ice cream, cakes, cookies, and of course fried apple pies.
And don't forget the hundreds of craft vendors lining many blocks of our town that day. There is also a festival flea market section near the west end of our festival for the flea market enthusiasts.
The Festival Committee works many hard hours during the course of a year to put this large event on. During the day of the festival the committee mans an Information Tent in the center of the festival to assist vendors and attendees alike in many ways.
Our History:
The Taylorsville Apple Festival was started in 1988 by the Sugar Loaf Community Association. The Taylorsville Hometown Development Association took it over in 1996 with approximately 35 exhibits that year. The festival has steadily grown to the stage it now is with an estimated 35,000 attendees. The festival now hosts over 400 booths including rides.
Our 1st Annual "Old Fashioned Christmas"
event was held December 17, 18, 19, 2015
and was a huge success!
Check back during the year for info
about the 2016 event!